When it comes to B2B lead generation, what really impacts the bottom line?
In this post, we're going to talk about how one health-tech company generated a 5,100% ROI from a $1 million integrated online marketing campaign. We'll also look at how a major accounting firm generated $1.3 billion in pipeline revenue from content marketing.
But before we jump into the case studies and discuss specific strategies, it's important that you get the foundations right and ensure that you're able to capture and convert a large percentage of leads from your campaigns.
Avoiding the leaky bucket effect
Many B2B marketers spend a lot of time, metaphorically, pouring water into leaky buckets. Rather than fixing the bucket (the marketing funnel), they pour more water (traffic) into the bucket to keep it full.
This is a recipe for inflated acquisition costs and below-average results.
The biggest culprit here are landing pages and, in particular, your forms. Forms separate your leads from non-leads, and have a huge impact on your conversion rates and overall lead generation results. If you haven't already, I'd recommend optimising your forms – or using a tool like Leadformly to ensure that you're not leaving leads behind from your marketing campaigns.
Let's say you send 1,000 visits to your landing page at a cost of $3 per visit. If your form converts at 1% you'll get 10 leads at a cost per lead of $300. If, on the other hand, your form converted at 3%, you'd receive 30 leads at a cost per lead of $100.
That's 3X more leads for one third of the cost per leads without spending a penny extra – just by improving your lead generation form.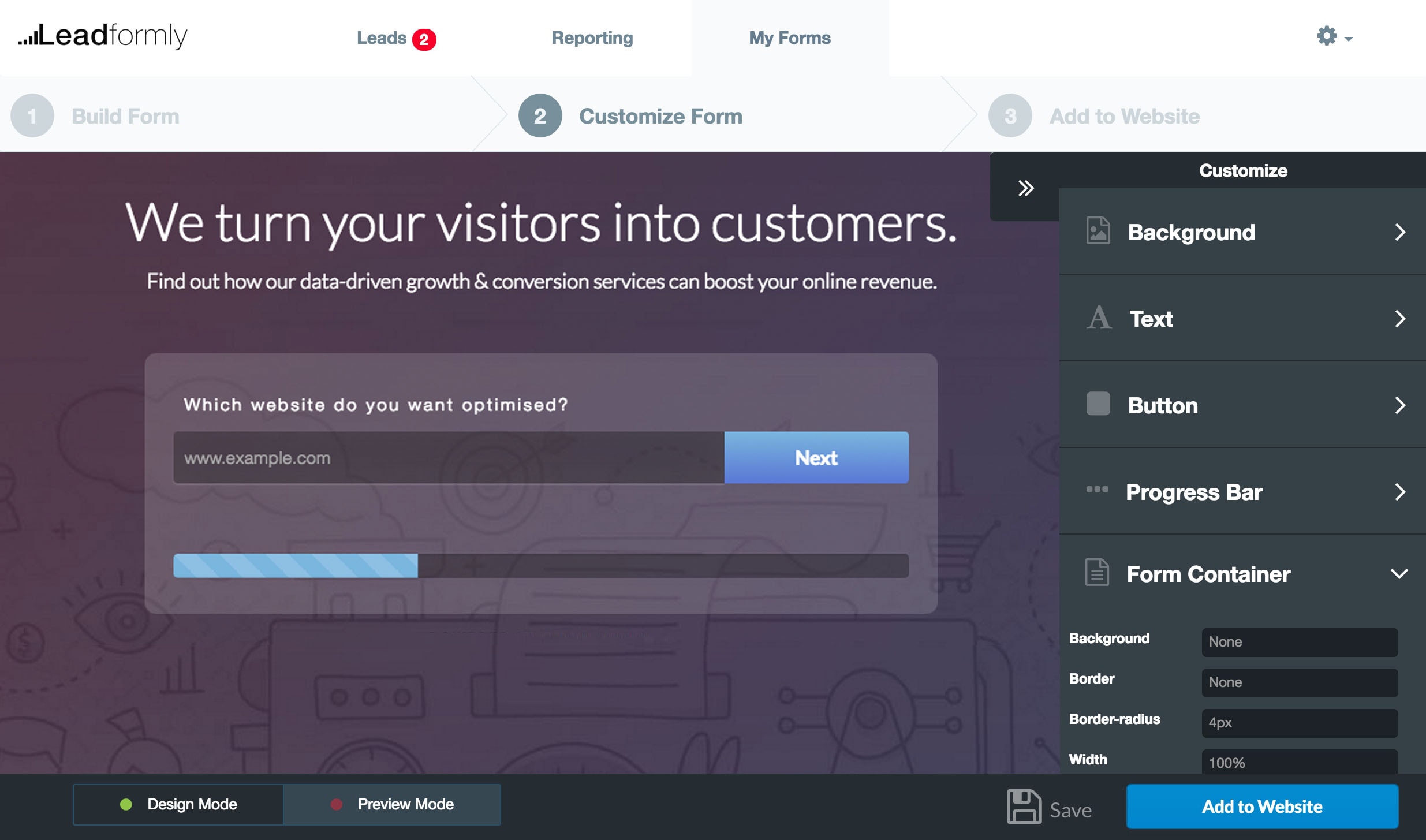 Once your funnel is well-optimised and you're confident that there's no more opportunity to improve your landing pages / funnels, it's time to acquire traffic – but which channels or lead generation strategies should you use?
Which B2B lead generation strategies work?
The answer to this question depends on who you ask.
If we were to go by Hubspot's study of the best B2B lead sources, we'd conclude that SEO is the best (identifiable) lead generation channel.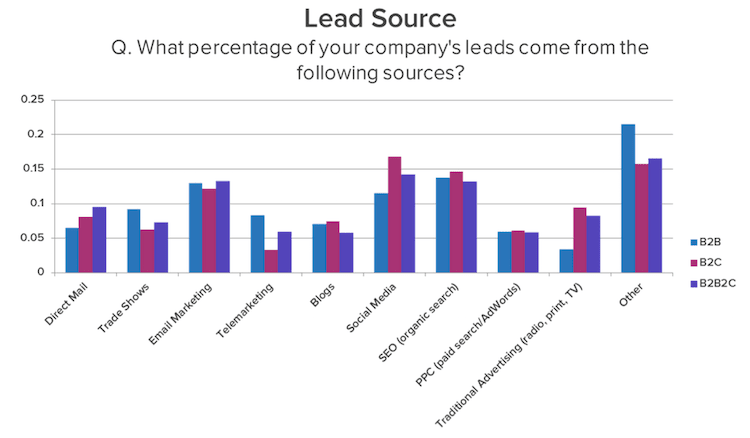 If, on the other hand, we used Chief Marketer's data on the same question, we'd conclude that email marketing is the most effective channel for B2B lead generation. Needless to say, there are similar surveys reporting that social media and content marketing are also the most effective forms of B2B lead generation.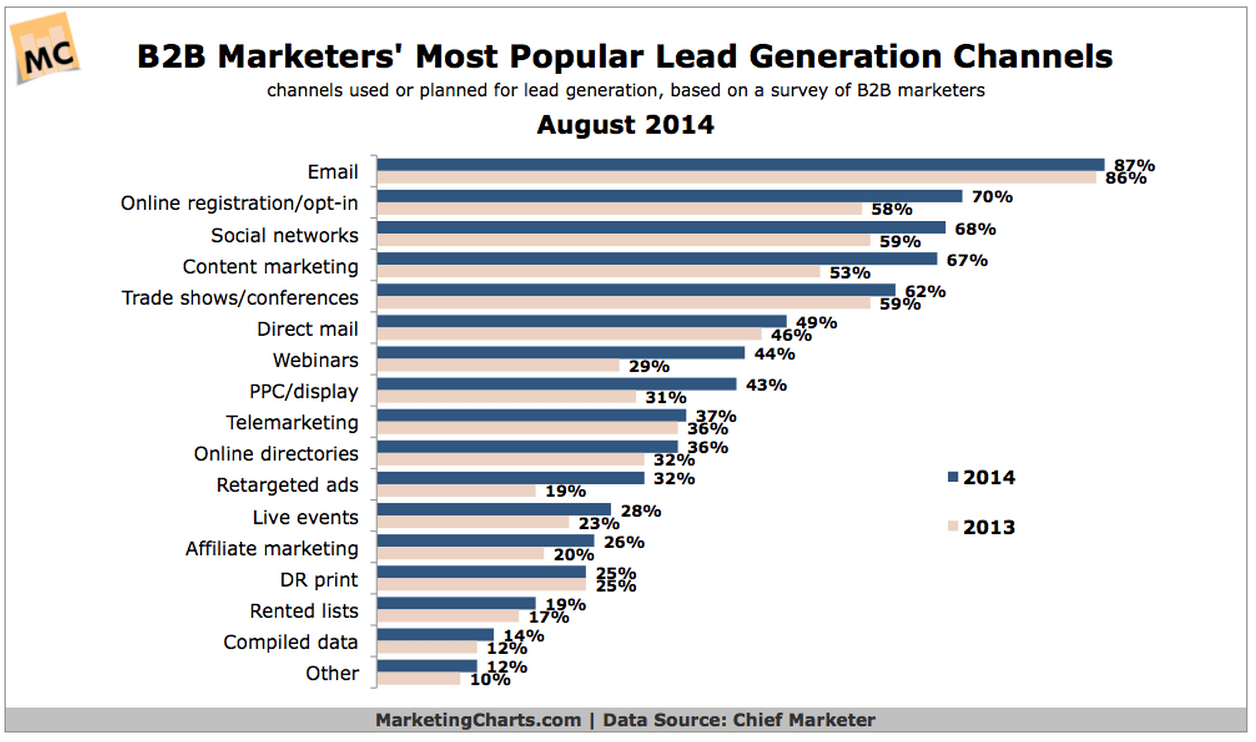 Why so much variation?
The likely answer is to do with audience biases. A survey conducted by an email marketing provider is almost certainly going to have different results to one conducted by PPC management tool, as their audiences have different skillsets and biases, skewing the results of their sample. As such, we should take the specific ranking of different strategies in these studies with a pinch of salt.
Inconsistencies aside, the online strategies that consistently come out at the top are:
Email marketing
Search marketing
Social marketing
Content marketing
We'll look at each these in more depth in a moment, but bear in mind that howyou use a lead generation channel is more important than what lead channel you choose.
Twitter can be used to close a $250,000 lead for a B2B business, or it can be used to spam potential leads and tarnish a brand. So, while the channel/strategy you choose will play a large role in how effective your lead generation is, how you execute your campaign will play an even bigger role.
With this caveat out the way, let's look at some of the ways that B2B companies are using the four strategies listed above to generate impressive results.