If you work in marketing, chances are you've heard these terms used interchangeably.
The truth is, demand generation and lead generation are different methods of marketing and they take place at different stages of the sales funnel. The reason they're often confused between one another is because of the similar characteristics they share. Although they may share these similar qualities, the goals and deliberate tactics each method uses differ.
Demand generation vs lead generation
It may be easy to throw a bunch of slang terms under the "marketing" umbrella and call it a day, but you know what's a better idea? Understanding the differences between them.
For example, take inbound vs outbound marketing. Although these two techniques are as different as different can be, many marketers still don't know the difference between them.
Demand and lead generation have the same problem. People use the terms interchangeably all the time, so it's time to get down to it and define each one.
Demand generation (often abbreviated to demand gen.) is the process used to build brand awareness and create demand for your business' product or service. In short, demand generation's main goal is to attract new visitors to your site and become aware of your business in the hopes of sparking their interest in the product or service you are selling.
At the end of the day, using this marketing technique will grow your audience, establish a trusting relationship between you and the customer, and continually create interest around your brand.
When your team uses demand gen., they're focusing on the buyers. After all, it's all about them. These potential buyers exist at the top of the funnel and may not even know that they need your product or service. This is where your content comes in and educates them on why they need what you offer.
Demand generation content ideas
Types of demand generation content ideas can include:
Blog posts/articles
Infographics
Video content
Social media posts
Podcasts
Case studies
Free tools
Press releases
Resource hubs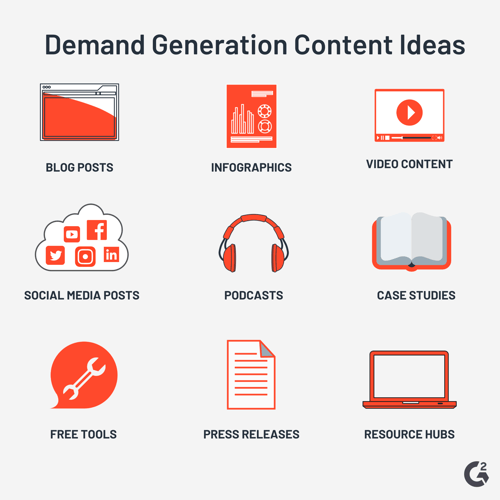 When you share this content, it must be free. Potential customers will be drawn to free and useful content more than content that may be gated or sold for a price. By offering it to them at no cost, you give them a valuable resource while simultaneously starting a brand/customer relationship. It builds trust, loyalty, and gives them a reason to want to come back.
Lead generation (lead gen. for short) is a marketing method used to qualify potential buyers into leads and send them further down the sales pipeline to convert them from visitor to buyer. Utilizing lead gen. is a way to capture prospective buyers further down the sales funnel and get them closer to buying.
The ultimate reason marketers and salespeople use lead generation is to find qualified leads for their business in order to be incorporated into the nurturing process so that a prospective salesperson can foster that relationship, follow up, and sell.
Unlike demand generation, lead generation often requires creating gated content so that you can ask for a customer's contact information (email, phone number, etc.) in order for them to receive that content.
To find new leads, companies take advantage of lead capture software tools. Lead capture software is used by salespeople to identify new customers by using information gathered from various sources including direct from leads, sales reps, marketing practitioners, or customer support agents.
Lead generation content ideas
Types of lead generation content ideas can include:
Gated content (PDFs, whitepapers, ebooks, checklists)
Product demos
Contests
Email subscriptions
Event signups
Free trials
Another slightly less intrusive lead generation technique is to use CTAs (call to actions). A call to action can be a link but they mostly come in the form of a button. For example, the orange button above is a CTA and directs readers to a page where a buying option is listed.
Most content marketers take advantage of CTAs when they write blog posts. It can be a helpful way to bring value to the reader as well as direct them towards the funnel. But always remember to implement CTAs that make sense within the article and benefit the reader. Keeping them in mind will bring them value and strengthen the company/customer relationship.